Recherche
Bastien BAUMET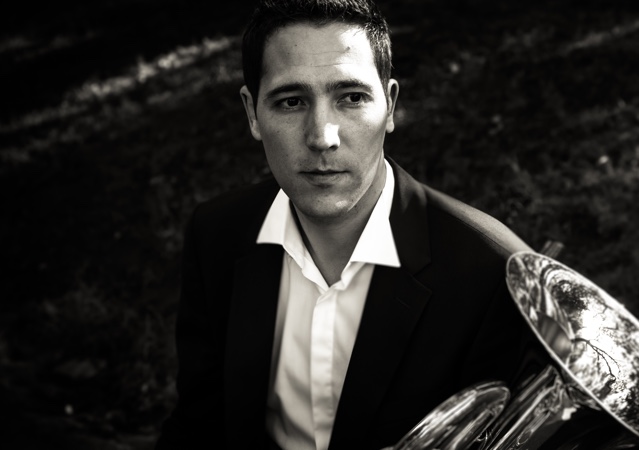 International soloist and principal euphonium of Paris brass band
Born in 1988, Bastien Baumet began his musical learning at six years old in south of France and got all his diplomas at Nîmes conservatory (2003) and at Villeurbanne conservatory (2005).
In 2006, when he was 17, he was admitted into the famous National Superior Conservatory of Music (CNSM) of Paris, where he won first prize with unanimity in 2009.
In 2006, he won the European contest for young soloist of Luxemburg.
Bastien is also the principal euphonium player of the Paris Brass Band (Winner of French National Championship 2012, 2013, 2014, 2015, 2016, 2018, Vice European champion 2019).
Since 2006, he has often been involved in orchestras such as l'Orchestre National de Lyon, , l'Orchestre Philharmonique de Radio-France, l'Orchestre de l'Opéra National de Paris, l'Orchestre National du Capitole de Toulouse, l'Orchestre National de France,…
In 2007, Bastien won the competition to be solo euphonium of the National French Police Orchestra since 2008.
In 2008, he won the first prize during the international championship in Jeju (South Korea), one of the most famous euphonium-based events.
In Juny 2012 he won the soloist prize at Amboise's Open of Brass band.
In July 2011, Bastien became a teacher in Paris' 13th district Conservatory.
He teachs also in the National Superior Conservatory of Music in Lyon since 2017.
Since 2008, Bastien has performed regularly as a soloist in France and abroad where he also, delivers recital, soloist concerts with brass-band, wind band or orchestra combining with exciting master-classes.
In 2012 he released his first CD « Art of the Euphonium » to the record company Indesens.
In 2014, he producted his second CD "Portraits" in duet with Alexis Demailly (solo cornet of the Paris's Opera).
His third album calls "Romance" recorded with piano playing by Mathilde Nguyen in 2016."Radiance", recorded with the Lisbon Air Force band, released in 2019.
In 2020 he records a new CD "Ascension" with Alexis Demailly and Brass band Fribourg Bastien Baumet is a Besson Artist (Buffet Crampon) and Denis Wick Artist (Mouthpiece and Mutes)
Retour en Haut