Recherche
Luciano DE LUCA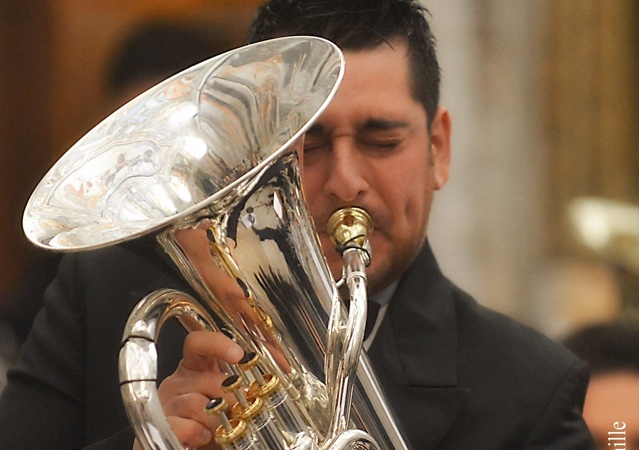 Luciano De Luca was born in Rome on June 22th 1998. Actually Mr. De Luca is 1° Euphonium Solo in National Police Wind Orchestra of Italy. During the Year 2007 Mr. De Luca had Acamdemic Trombone Degree cum Laude, at St. Cecilia Conservatory of Music in Rome, with M° Vincenzo Tiso as Teacher.
In the same year He Won "Via Vittoria" Prix, (the prix is reserved to the 5 best degree placement in Italy) As member in Orchestra and as Soloist, Luciano De Luca, worked and he is working with some best conductor like Riccardo Muti, Daniel Baremboim, Myung Whun Chung, Markus Stenz, Lorin Mazel, Zubin Mehta,Gianluigi Gelmetti, Alessio Vlad, Asher Fish, Maurizio Billi, Francesco La Vecchia, Roberto Granata.
With them he gone in several concert tours in Poland, Germany, England, Swiss, France, China, Japan and Spain. Mr. De Luca won several Orchestral Auditions like Orchestra del Teatro dell'Opera di Roma, Orchestra Della Città Di ROUEN in Francia, Arts Accademy (orchestra sinfonica di Roma), Orchestra sinfonica del conservatorio Santa Cecilia di Roma. He was student in many masterclass and private classroom with JACQUES MAUGER, ANDREA CONTI, JAY FRIEDMAN, CHARLES VERNON, GIANLUCA GAGLIARDI. Also he has partecipated at Integrated Course for Brass Intruments with Andrea Conti and !Andrea Lucchi both first place in National Orchestra "Santa Cecilia " of Rome.
He started to learn Euphonium when he was child with his Father Guglielmo, and after he continued with M° Matteo Caramaschi. During the Year 2004 Luciano De Luca began the specialization in Euphonium, as student of STEVEN MEAD, DAVID CHILDS, MATTEO CARAMASCHI, ROGER BOBO. During 2005/2006 year He had DIPLOMA DI ALTO PERFEZIONAMENTO IN EUPHONIUM with Steven Mead at Istituto Superiore Europeo. He won on 2010 National Competition for Euphonium Place in National Wind Orchestra of Italian Police where he is often soloist. Mr. De Luca teach in many Annual Masterclass in Rome,Messina, Florence, Lucca, Milan. He is 1° Euphonium on "Italian Brass Band".
He is Founder of "Italian Sound Quartet" with won several competition as VILLE D'AVRAY PARIS COMPETITION, (1st Prix), CACCAMO INTERNATIONAL COMPETITION (1st Prix), placement as finalist at INTERNATIONAL COMPETITION OF SANGUINETTO. Also, He is 1st Euphoinum of Miraphone Tuba Quartet. Last Febrary 7th 2014 he was in Germany where he was nominated Ufficial Miraphone Endorser ( one of the most important Brass Factory of the World)
Retour en Haut