Suche
Renato Meli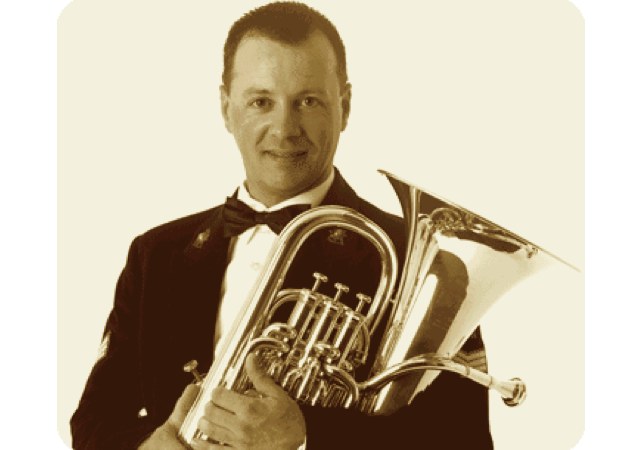 Royal Military Band in the Hague
Renato Meli started his musical career as an eight-year-old euphonium player with the local band in Berg en Terblijt. With this band he gave his first solo performance at 14.
He played in various youth bands such as the Euregion Band and the National Youth Band. At the age of 17 he sat for an entrance examination with Piet Joris at Maastricht Conservatory.
Since 1989 he has been principal euphonium with Brass Band Limburg. With this band he won a number of soloist prizes such as in 1990 during the open Dutch Brass Band Championships in Utrecht and in Bern during the Swiss Entertainment Contest in 1992.
ln 1991 he became euphonium player with the Royal Military Band in the Hague. With this band he graduated with distinction as a performing musician at Maastricht Conservatory.
Since 1995 he has been attached to the Band of the Royal Dutch Marines. With this band he regulady does solo performances. Renato also gives workshops at home and abroad together with the well-known manufacturer Boosey & Hawkes and so he plays a Besson prestige euphonium.
In February 1995 Steven Mead invited him for a soloist performance during the second Tuba/Euphonium Gonference in Birmingham. During the third Conference in 1997 he contributed as a teacher.
In January 2000 he was invited again for a soloist performance, this time in Manchester. Besides he took part in the Concours Mondialfor tuba and euphonium in Guebwiller in September 1997. Here he finished as semifinalist.
In 1998 he played with the Concertgebouw Orkest in Amsterdam severaltimes. Other symphony orchestras were e.g. Het Limburgs Symfonie Orkest and Het Brabants Symfonie Orkest.
In addition he is a member of the Nederlands Fanfare Orkest and brass ensemble Flexible Brass. As a soloist he can be listened to during the many concerts and performances of e.g. the Band of the Royal Dutch Marines, Brass Band Limburg and Flexible Brass. Abroad he often performs as a guest soloist.
Some bands are: Brass Band Midden Brabant (Belgium), Conservatory Brass Band Manchester (Great Britain). Junge Blaser Philharmonie Sud West (Germany) and la Banda Associazione Musicale Stanislao Silesu (ltaly).
Retour en Haut