Search
Alexis Demailly Interview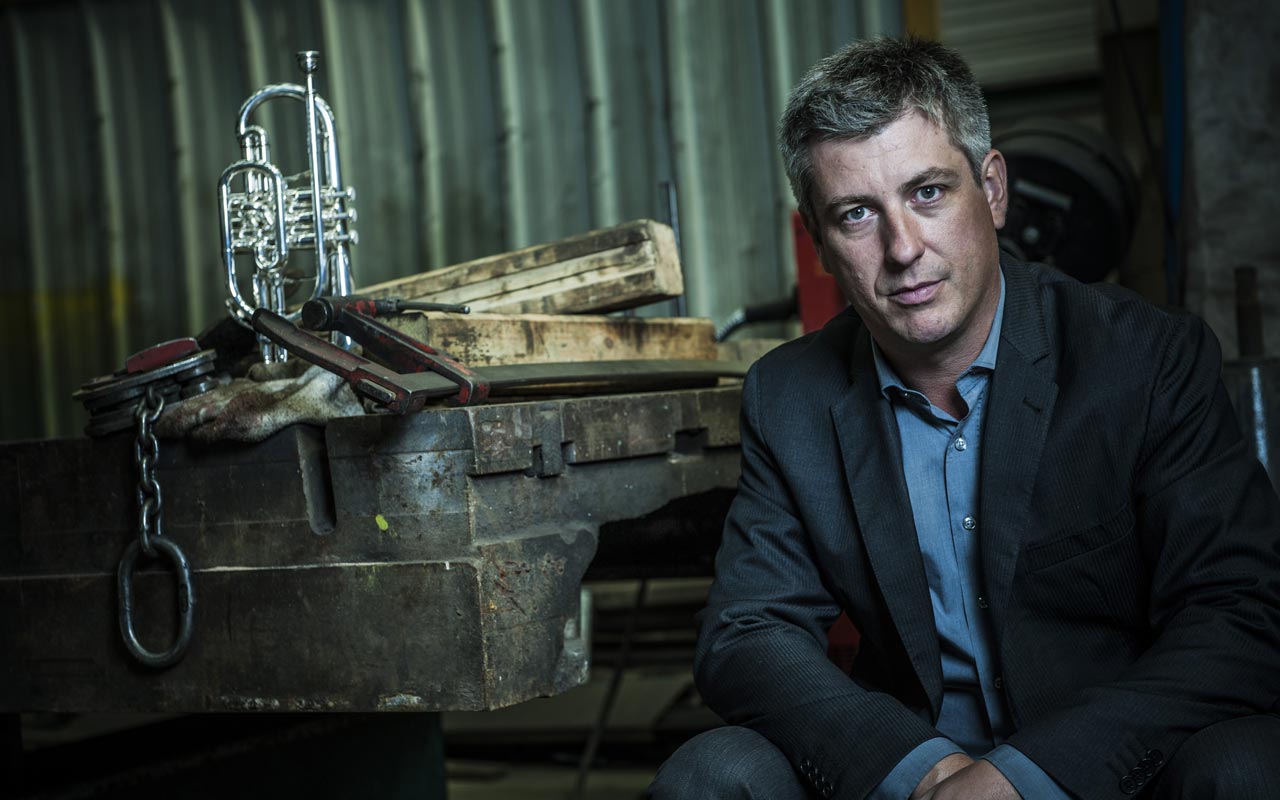 What inspired you '…to take the cornet out of its traditional area of repertoire' as you say, for this recording?
A few years ago, I had the idea with my wife Virginie, who is a professional violinist, that on my second CD release 'Rainbow', we should record three pieces of music with a string ensemble.
It seemed to us that it would be interesting to vary the existing worlds of sound and to mix accompaniments of brass and strings on the same CD. It was apparent that this marriage of two instrument families was a great success and we decided to dedicate a whole CD to the idea.
It seemed a shame to me to resort to transcriptions and use an ensemble merely as accompaniment.
This gave me the idea to involve a string quartet, one of the purest configurations and iconic of classical music, for a project that is somewhere between chamber music and music for soloists.
The delicate quality of the cornet lends itself perfectly to small configurations and this was an opportunity to try out a modern repertoire that was something different from the brass band.
You have worked with many remarkable musicians over the years in your career – now you link up with the Urban String Quartet.
Does this present exciting new challenges to you as a performer?
This isn't simply a CD where the cornet is accompanied by a string quartet. Some pieces are more oriented toward chamber music, where the challenge was to blend the cornet with the sound and feel of the quartet.
This was a new experiment for all five of us and we had to work hard to find a homogenous approach to phrasing and dynamics.
The greatest difficulty we were faced with was the different nature of attack, the cornet being very direct and the strings often a bit more laid back!
You have also worked with many exciting young composers on 'Fantasque'.
Tell us what attracts you to the musical outlook of people such as Stan Nieuwenhuis, Peter Meechan and the others featured on the release?

I wanted to work with composers that I admired for their works of originality and creativity.
It was a humanly as well as musically fulfilling experience, where each was able to imagine the alliance between a cornet and strings in his own way.
I've had the opportunity to hear the work of Stan (above) and Peter on several occasions and I was very drawn to their styles.
I especially liked the non-conformist originality and inspiration of Stan, his music takes us on a journey and surprises us. Peter's music is refined, with beautiful strands of melodies and sublime underlying harmonies that are enough to stand on their own.
The huge talents of Nicolas Charron, Joseph Vella, Fabien Cali and Arnaud Boukhitine will keep you journeying throughout the entire CD and will undoubtedly open new perspectives in music composed for brass.
Tell us a little more about each of the pieces and why you have chosen them?

My main inclination for this CD was to showcase new pieces.
However, I also really wanted to record 'Fall from Grace' by Stan Nieuwenhuis to include a more modern side with its electro-pop style and I think it's important to bring these great pieces to life.
There's also 'Fujiko' by Andy Scott (below), which I think is fabulous and I wanted to arrange a version for quartet, as with 'Doyle's Lament' by Peter Graham – an absolutely sublime melody for flugel horn.
As for what was asked of them, I didn't impose anything on the composers but the timing. I wanted them to feel free to write their own music.
'Fantasque' by Stan Nieuwenhuis is a little piece in 4 movements inspired by the unpredictability of the sea. Each movement describes a state that the sea can be in: agitated, somewhat breezy, weirdly calm after a storm…
Fabien Cali wished to use the rhythms of machinery in his concerto for cornet, 'Furie'. This piece starts out with a frantic rhythm, like a machine running at high speed that seems unstoppable.
You can also hear a musical poem inspired by the renowned poet, Jean de la Fontaine, 'La cigale et la fourmie' ('The Cicada and the Ant'), which Nicolas Charron wished to transcribe into music by employing the cornet and the flugel horn to illustrated the two characters.
'Juillet 2015' is a suite as well as fantasia to the theme of 'Greensleeves' by Arnaud Boukhitine that is, for me, a new generation take on the traditional theme and variations. This piece came out of the two of us kidding around, which turned into a challenge to compose it. It takes us into unimagined recesses of the theme.
'Meditation' by Peter Meechan evolves from a magnificent theme that develops into the fulfilment of a meditative state.
When I proposed this project to Joseph Vella, it was when we were all in a state of shock over the terrorist attack on the magazine editors at Charlie Hebdo. Joseph wanted to show his support by composing 'Charlie on my Mind'.
Do you see this recording opening a new musical horizon for the development of cornet repertoire – and what other areas would you like to explore?
If I can inspire my cornet-playing colleagues to come up with new ideas by way of this recording, I'll be thrilled and honoured. There are still so many avenues to explore with these instruments.
As for the future, I like to let myself go where the wind blows. I'll probably make some new discoveries, who knows where it will take me…
Do you think there is an opportunity for the cornet to gain much more widespread critical acclaim as a solo instrument like the trumpet, with orchestras, ensembles and world class groups such as the Urban String Quartet given the chance?
I have high hopes that the cornet can become an instrument of the first order.
However, in reality, I find that wind instruments in general are poorly represented in classical music. It's our duty to promote our instrument and to try different types of music, different places, and to show how it can capture the interest of composers.
One thing is sure: the cornet is not shadowed by the trumpet, quite the opposite.
You have a very busy professional life as a musician, so how did you manage to develop this recording project and be able to fit it in with your day to day work?

From inception to release, we'll have spent two years in the realisation of this project. Some pieces required more time than others. I worked on it in my free time, piece-by-piece, day-by-day, without setting recording dates.
We decided to record in three two-day sessions to have the time between each one for a chance to work in detail with the five of us in collaboration with the composers.
My wife, Virginie, helped me tremendously with this project. She took care of the organisation, coordination and production. She is also a member of Urban String Quartet.
And what does that day to day life entail for you working at the National Opera Orchestra of Paris and your other commitments?
I divide my time between my position as First Cornet at the Opera, the Paris Brass Band, recordings, the Paris Opera Brass Quintet of Soloists and my solo performances in concerts.
The most difficult thing is to manage these activities time spent with my family and without forgetting my passion for golf!
You have played principal cornet with Paris Brass Band (above) for a number of years and the band has become one of the very best in Europe.
What role do you see both the band and yourself being able to undertake to help promote new music and new collaborations such as your release?

In December at Radio France, we'll be creating a piece by Olivier Calmel, our resident composer, called 'Ecce Paris, Ecce Homo', for a children's choir and brass band.
We'll also record a CD with composers who've made a mark on this year of 2016: Oliver Waespi, Olivier Calmel and Thierry Deleruyelle.
At the moment, I'm dedicating my time to promoting Fantasque by giving concert tours in 2017, and the next project will undoubtedly be a new CD in duo, accompanied by a wind band, and with my friend, Bastien Baumet.
Retour en Haut