Search
Luciano DE LUCA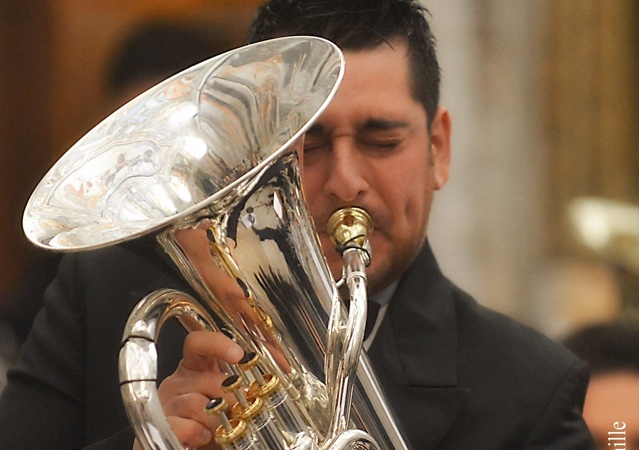 Principal Euphonium Italian Brass Band. Euphonium Player in the National Police Wind Orchestra
Luciano De Luca was born in Tivoli, near Rome. Principal Euphonium Italian Brass Band , Euphonium player in the National Police Wind Orchestra of Italy . At the age of four, Luciano began studying euphonium first with his father . In 2006 he completed his euphonium studies with Steven Mead at the Higher Institute of Band studies in Trento, obtaining a higher degree. In 2007, he obtained his Academic Trombone Degree cum Laude at the St. Cecilia Conservatory of Music in Rome with Vincenzo Tiso as his teacher. In the same year he won the "Via Vittoria Prix", awarded to the five best degree placements in Italy.
De Luca has studied with Steven Mead , Robert Childs and David Childs has attended many courses and masterclasses with Andrea Conti, Jaques Mauger, Jay Freidman, Charles Vernon, Anne Jelle Visser , Gianluca Gagliardi and Federico Ventura. Luciano De Luca has worked with some of the world's foremost conductors, including Riccardo Muti, Daniel Barenboim, Myung Whun Chung, Lorin Mazel, Zubin Mehta, Maurizio Billi, Markus Stenz, Gianluigi Gelmetti, Alessio Vlad, Asher Fish and Roberto Granata ; touring in England, France, Germany, Poland, Spain, Switzerland and China .
He is also the winner of several orchestral auditions, including those for the Rome Opera theatre Orchestra, the City of Rouen Orchestra in France, the Symphony Orchestra of Rome (Academy of Arts) and the Symphony Orchestra of the Rome Conservatory. At the age of 21, Luciano won the National Competition for Euphonium in the National Wind Orchestra of the Italian Police, where he frequently performs as a soloist. He has taught in numerous master classes in cultural and musical institutions in Italy and abroad , including The Academy of International Euphonium in France. Professor of euphonium and posaune, Academy Ergo Cantemus in Tivoli .
In 2014 three concertos were composed for and dedicated to Luciano De Luca:
-I Masnadieri Prelude of Giuseppe Verdi for Euphonium and Brass Band ; By Pasquale Magnifici
-Sigma, Concert for Euphonium and Piano by Stefano Zigrossi.
-Cerretango, Concert for Euphonium and Piano by David Vallini.
-Core N'grato, for Euphonium Solo and Brass Band by Gaetano Cannuli .
-The Magic Carpet, Concert for Euphonium and Wind Band by Secondino De Palma.
The latter was performed for the first time ever by Luciano De Luca on 24 August 2014 in the city of Troia (FG). He is Principal Euphonium in the "Italian Brass Band" with which Two May 2015 WINS Competition European Brass Band Championship in Freiburg, Germany. Euphonium Soloist the brass ensemble of the National Academy Santa Cecilia in Rome "Tam Tam Brass .
He is founder of the "Italian Sound Quartet, which has won prestigious International competitions: overall first prize at d'Avray in Paris, the audience award at Caccamo in Sicily and the Sanguinetto International Competition for chamber music in Verona. In 2013 – 2014 was Artist Miraphone, in June 2015 became officially Artist Besson most company popular musical instruments in the world.
He plays with Euphonium Besson Prestige .
Retour en Haut