Search
Nuno MACHADO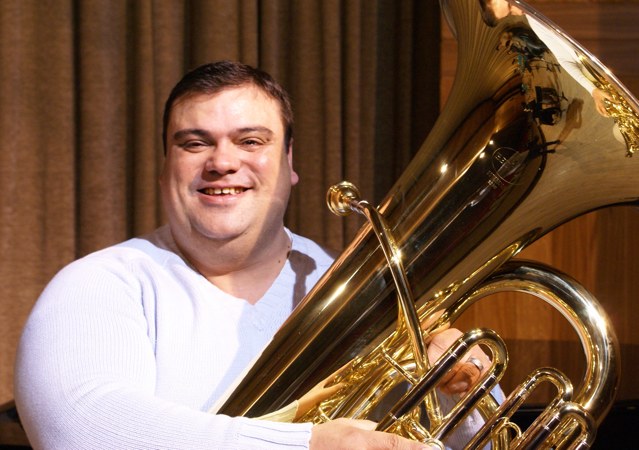 Professor at Professional School of Art of Mirandela and Professional School of Arts da Covilhã (EPABI)
Born in 1976, Nuno Machado began his musical studies at age 6 in the Wind Band of his town, Sociédade Musical de Pevidém. He joins Artistic Professional School from Vale do Ave (Artave) in 1992, where he studied with Professor Alexandre Fonseca (Tuba) and with teachers Paulo Silva and Kevin Waldroun (Chamber Music). In 1994 obtained the 3rd prize for Chamber Music (Medium Level), and in 1995 obtained the 3rd prize for Chamber Music (Superior Level), in the Award for Young Musicians (Prémio Jovens Músicos). This same year he took part in the Sumer Music Course Orchestra of Music Schools 95, and Orchestra "AIDIMOS" (International Academy of Musical Interpretation of Symphony Orchestra) France, in which he won the 3rd prize at the solo competition.
In 1996 he joined the Regional National Conservatoire of Nantes in class of Michel Berger (Tuba and Chamber Music), where he obtained a gold medal Tuba unanimously with the "congratulations of the jury." Then in 1997 he obtained his degree with a gold medal Tuba and 1st prize unanimously. During his formation he already had the opportunity to work with various international soloists such as: Thierry Thibault, Sebastien Rouillard, Walter Hilgers, Gerard Buquet, Stephane Labeyrie, François Thuillier, Michael Lind, Marc Girardot (Tuba e Oficleide), Michel Godard (Tuba e Serpent), Marc Steckar, Oyestein Baadsvik, Philip Legris, Roger Bobo, Gene Pokorny, etc. Moreover, since 1997, was regularly asked by various orchestras and different formations such as the: Orchestra Musicampus ,Wind Orchestra Phillar de Nantes, Tubacanal – Tubas Ensemble from Nantes, Portuguese Symphonic Orchestra, Oporto National Orchestra, Wind Orchestra from Templarios, North Orchestra, Orchestra from Povoa de Varzim, and he played with many wind bands and different formations throughout Portugal.
As a teacher has taught at the Oporto Music Conservatory, Conservatory Calouste Gulbenkian from Braga , Music Academy from Lousada, Music Academy from Guimarães, Music Academy from Povoa de Varzim, Piaget Institute from Mirandela , and has been teacher in many educational projects like: Minho-Galaica Sumer Music Course, Verão Amizade Sumer Music Course, and others. He recorded with various orchestras, wind bands, with many different formations, and as soloist he recorded with the Verão Amizade Wind Orchestra Sumer Music Course with Maestro Armando Saldarini and Banda Amizade Wind Band with the Maestro Carlos Marques. He is currently Member of Tubas and Percussion Trio "BIG BROTHERS"(France), Judge of the National Wind Instruments Contest " Concurso Terras de La Salette" and is teacher and conductor at Professional School of Art of Mirandela (ARTEMIR) since 1997 and Professional School of Arts da Covilhã (EPABI) since 2007.
Retour en Haut