Search
Tormod FLATEN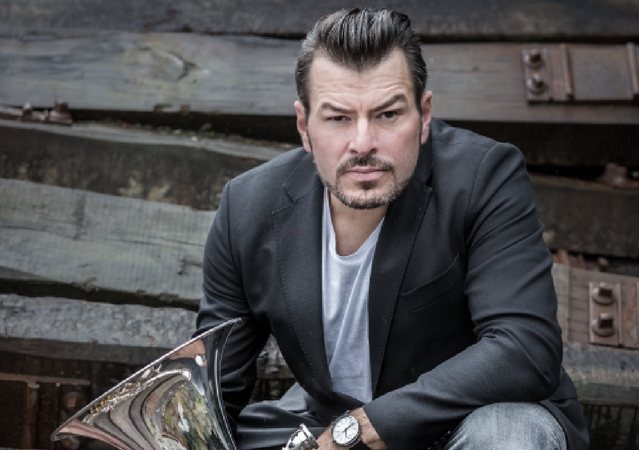 International soloist
Tormod Flaten is an international Besson artist and solo euphonium player with the Royal Norwegian Naval Forces' Band. With his three solo recordings, numerous appearances at major international festivals and his passion for developing new repertoire, Tormod has established himself as one of today's most exciting voices of the euphonium.
Tormod Flaten er en internasjonal Besson-artist og jobber som euphonist i Sjøforsvarets Musikkorps. Med sine tre soloplater, tallrike opptredener på internasjonale festivaler og sitt engasjement for euphoniumrepertoaret, har Tormod etablert seg som en av de mest spennende euphoniumsolister.
Tormod performed live on radio and television and has appeared as a soloist in the US, Korea, Great Britain, France, Switzerland, Austria, Hungary, Belgium, Germany, Denmark and Finland.
Tormod har opptrådt live på radio og TV og som solist i USA, Sør-Korea, Storbritannia, Frankrike, Sveits, Østerrike, Ungarn, Belgia, Tyskland, Danmark og Finland.
Tormod studied euphonium with Kim Lofthouse and Grethe Tonheim at the Grieg Academy, University of Bergen. His two exam recitals were historic, being the first Norwegian brass player to gain the highest possible mark 1.0 on both occasions.
Tormod studerte euphonium med Kim Lofthouse og Grethe Tonheim ved Griegakademiet, Universitetet i Bergen og fikk toppkarakteren 1.0 på sine to utøvende eksamener, som den første messingblåseren i Norge.
In 2014 Tormod Flaten won the audition for the highly sought-after solo euphonium position with the Royal Norwegian Naval Forces´ Band in Bergen. He taught euphonium at the Grieg Academy and served on the board of directors for the International Tuba Euphonium Association.
I 2014 vant Tormod Flaten den ettertraktede jobben som euphonist i Sjøforsvarets Musikkorps i Bergen. Han har undervist i euphonium ved Griegakademiet og sittet som internasjonal representant i styret for International Tuba Euphonium Association.
Tormod played with leading Norwegian brass band Eikanger-Bjørsvik for 13 years and he is a founding member and principal euphonium player of Bjørsvik Brass.
Tormod spilte med Eikanger-Bjørsvik Musikklag i 13 år og er nå soloeuphonist og en av grunnleggerne i Bjørsvik Brass.
As a conductor Tormod has worked extensively with several of the top wind and brass bands in Norway. He led Sandvikens Ungdomskorps to victory in 2011 when they were crowned as Norwegian Wind Band Champions.
Som dirigent har Tormod jobbet med flere av de beste norske brassband og janitsjarkorps. Han ledet Sandvikens Ungdomskorps gjennom mange år, og sammen tok de en sensasjonell seier under NM Janitsjar, elitedivisjonen i 2011.
Tormod is an experienced adjudicator having appeared at numerous band, solo and ensemble competitions in Norway and internationally. He also runs the publishing company Fundamental Music, with music for euphonium.
Tormod har mange års erfaring som dommer og har dømt ved en rekke korps-, solo- og ensemblekonkurranser i Norge og utenlands. Han driver også noteforlaget Fundamental Music, med musikk for euphonium.
Tormod Flaten is an artist for Buffet Group and plays a Besson Prestige BE2052 euphonium.
Tormod Flaten er artist for Buffet Group og spiller Besson Prestige BE2052 euphonium.
Retour en Haut